About us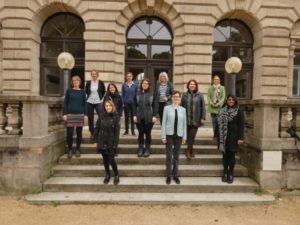 Our tasks

The Office of Equality and Diversity develops and implements strategies, projects, and offerings used at FAU to promote equal opportunities in terms of content, concept, and strategy. These are:
Gender Mainstreaming
Diversity management
The FAU and Universitätsklinikum Family Service supports in ensuring the compatibility of studies, career and family.
In addition, we support the university and faculty women's representatives at FAU in fulfilling their tasks. Another core task, in close cooperation with the university management and the faculties, is to link the decentralized concepts and measures for equal opportunities with FAU's overarching equal opportunity strategy.
We advise on the working out of equality concepts, for example in joint projects, and are the place to go for all university members on questions concerning equal opportunities. In addition, the office contributes to quality assurance with continuous monitoring of academic progress and the evaluation of equal opportunities policies. We provide comprehensive information and public relations work on the topic of equal opportunities, are closely networked with internal university committees and services, and participate in local, state and national networks.
FAU's equality concept for the academic sector 2018-2022 (German version) was adopted by the university management on 07 March 2018.
Further information on: